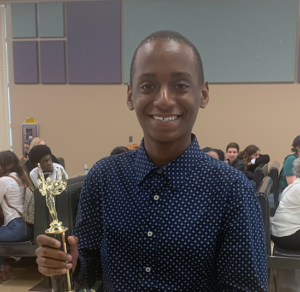 In April 2021, the Jack Kent Cooke Foundation announced that 61 graduating high school seniors would receive the prestigious Cooke College Scholarship. This year's recipients, who represent 26 states, will receive up to $40,000 annually to cover costs associated with their undergraduate education. Bound For College is pleased to announce that our very own Darrel Creary of Atlantic Community High School was one of the proud recipients of this high honor.
We first met Darrel when he was a sophomore at Atlantic Community High School in Delray Beach. Originally from Jamaica, Darrel moved to Delray Beach with his parents and older brother in 2018. Even though he had only arrived in the United States shortly before his sophomore year of high school, he was instantly committed to our program pipeline. Darrel's mom said she always knew her son would go on to do great things, she just did not know if she could afford to get him on that path to success; that is, until Darrel found Bound For College.
Darrel was diligent when it comes to participating in BFC programming throughout the duration of his high school career. From attending ACT/SAT Prep weekly, to going on multiple college tours, Darrel took full advantage of the BFC experience. Most importantly, Darrel attended our enrichment workshops where he received assistance with his college and financial aid applications, ensuring he was applying to schools that best fit his academic preparedness and educational goals.
During his tenure at Atlantic High, Darrel served as the National Honor Society's President, and as a junior, Darrel won first place in the PBCFL Novice Lincoln-Douglas debate.
In addition, Darrel also was the co-creator of the Red Apple Supply School District Initiative, which aimed to provide school supplies to underprivileged youth impacted by the pandemic. His incredible work on that project was proudly featured by the Education Foundation of Palm Beach County . Now, as a Cooke College Scholarship recipient, Darrel in on his way to the University of Miami to study Broadcast Journalism.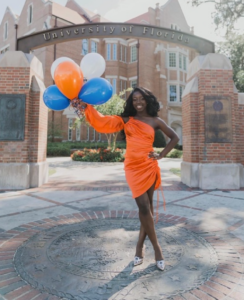 A Village Academy Alumni and Viner Scholar, BFC Rock Star Smeda Corneille graduated in the Spring of 2021 from the University of Florida with a Bachelor's of Science in Family, Youth, Community Sciences and a Bachelor's of Arts in Sociology as well as a Family Life Educator certification. She obtained her dual degree and certification in just three years! She plans to apply to nursing school, become a Labor and Delivery nurse and ultimately a Midwife.
When asked what advice she had for incoming college students, Smeda said "Trust the process and let college be a time of exploration. I switched my major and my career path multiple times. I joined many clubs that I never thought I would, tried new things and met so many people. All of it led me to my passion and my ultimate purpose. College is equally about the experience as the grades. Cherish each moment."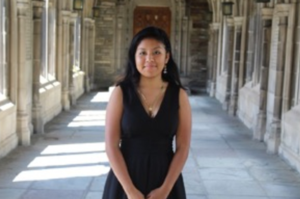 Lizeth Arzate began her journey with Bound For College in 2013, and was an active participant in our College Readiness Program at Village Academy in Delray Beach. Born in Mexico and registered under DACA status, Lizeth is a first generation high school graduate and a role model for her three younger brothers who are currently active members in Bound for College at her alma mater. Graduating near the top of her class in 2016, Lizeth enrolled at Cornell University and was awarded a full four year academic scholarship.
Lizeth worked at the student post office while pursuing her degree in American Studies. While at Cornell, Lizeth won the Latino Studies Program Student Award and served as the President of Students onto Students, an organization assisting low income youth in the Ithaca, New York area. In addition, she was an executive member of the Dream Team, an organization aimed at empowering and supporting undocumented students.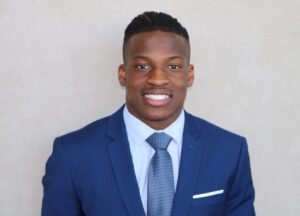 Jean Constant attended Village Academy for his final two years of high school and graduated in 2015. During his time at Village Academy he set the standard for effort both in the classroom and on the football field. While relentlessly working with Bound For College and English teacher and tutor, Faye Pelosi, to improve his ACT exam scores, Jean also starred for Village Academy football coach, Donald Hanna. Jean was named as wide receiver to the Palm Beach All County Small Schools First Team All Stars as a senior.
Jean is respected throughout Delray Beach for his work ethic in everything he faces; his skills and leadership in football; and his contagious smile. Jean's parents immigrated from Haiti and his entire family has always worked hard to make ends meet. While juggling both his academics and athletics, Jean worked long hours in high school at Deck 84 restaurant as a bus boy.
Playing at 5'9" and 165 lbs, Jean earned a football scholarship to Bryant University, an FCS division college, in Rhode Island where he led the nation in kick return averages in 2018 and was named FCS All American kick returner. He graduated from Bryant University with a major in marketing and now works as a business development representative for EverQuote, an online insurance marketplace corporation based in Cambridge, Massachusetts.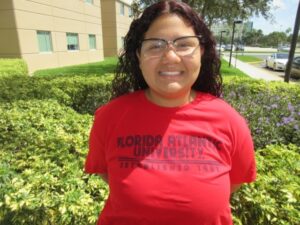 While Genesis and her siblings were born in the U.S., their parents immigrated from Honduras. A loved and respected leader among her peers, Genesis has been an active member in Take Stock in Children throughout her high school career and has successfully completed two summer sessions at the rigorous Morehouse College Math & Science Camp in Atlanta. 
Genesis has also actively participated in Bound For College's after school college readiness program for three years. During those years she encouraged her younger brother, Honan, to take advantage of the Bound For College middle school program offered at Village Academy and thanks to her support and encouragement, Honan has now completed all three years of the middle school program. Honan will enter the college readiness program this Fall as a freshman and straight A student.
While juggling her high school coursework, a part-time job at La Bamba restaurant in Delray Beach, and helping to care for her two younger brothers, Genesis has earned 28 college credits through her dual enrollment classes at Palm Beach State College.  
Genesis graduated from Village Academy in 2020 and is the proud recipient of a Kelly/Strul Emerging Scholars Program Scholarship which provides full funding for selected first generation college students. She is interested in studying both biology and computer science and will attend FAU in Fall 2020.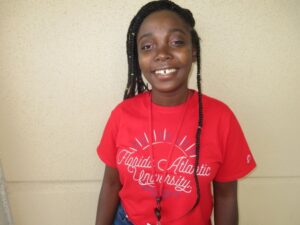 Hadelle, nicknamed "Smiley" by her Home Depot co-workers, has achieved great things since arriving in the U.S. from Haiti in 2015. 
Hadelle was unable to speak English when she enrolled at Atlantic Community High School but quickly found her niche within their four year AVID college readiness curriculum. In addition to her hard work with AVID, Hadelle actively participated in Bound For College tutoring for two years and not only mastered English, but became an A student, graduating from Atlantic Community High School in 2020. Furthermore, Hadelle maintained a heavy work load at Home Depot to assist her family with living expenses while remaining positive and bringing joy and inspiration to everyone she meets. 
Her commitment to academic excellence helped her earn a Bright Futures Scholarship, a Viner Community Scholarship, and a Teamwork Education Foundation Scholarship. Hadelle will attend FAU in Fall 2020 to pursue her degree in nursing.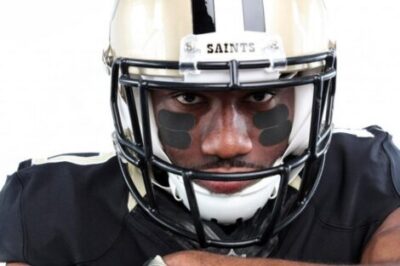 Tre'Quan attended tutoring with Bound For College for six years, beginning in middle school and continuing throughout his high school career. After he graduated from Village Academy in 2013, Tre'Quan attended the University of Central Florida where he mastered balancing his academics and athletics. Tre'Quan graduated from the University of Central Florida one semester early in 2017, and was selected to play in the 2018 Reese's Senior Bowl.
After earning his college degree, Tre'Quan began playing professional football and is now entering his third season with the New Orleans Saints as a Wide Receiver.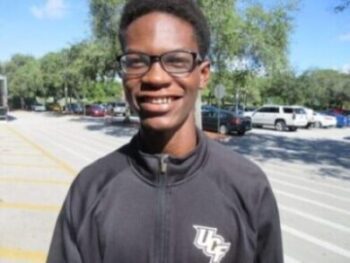 Bryan is a 2020 graduate from Atlantic Community High School and the third member of his family to attend Bound For College's after school tutoring program. Since leaving the Bound For College program, his older sisters Inngide and Bethsie have gone on to graduate from the University of Miami and Florida Atlantic University respectively.
Bryan earned a Florida Bright Futures Scholarship and Viner Family Foundation Project Stars Scholarship to assist him with his studies at the University of Central Florida.
Due to the pandemic, Bryan had chosen to begin his University of Central Florida academic career via online courses and remained with his family in Boynton Beach. Bryan began his Spring 2021 semester on campus in Orlando.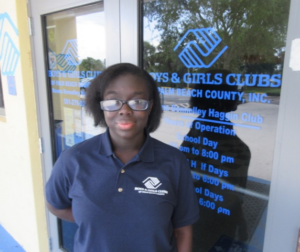 Donia is a 2020 graduate of Atlantic Community High School who will enroll this fall at Florida State University under their CARE first generation scholarship program.
During her time at Atlantic Community High School, Donia actively participated in Bound For College tutoring for two years and in 2018, she attended the demanding Morehouse College Summer Math & Science Camp in Atlanta, Georgia. Donia was also a member of the AVID program, led by AVID coordinator/teacher extraordinaire Nickoletta Loulis, for four years.
As a child, Donia was a member of the Boys & Girls Club of Delray Beach and as a young woman, she worked part-time at that same location. Donia's commitment to excellence helped her earn scholarships from the Boys & Girls Club as well as Florida Bright Futures, Viner Family Foundation, and Florida State University CARE.
Donia continues to juggle her jobs at Fresh Market and the Boys & Girls Club in advance of her enrollment into Florida State University.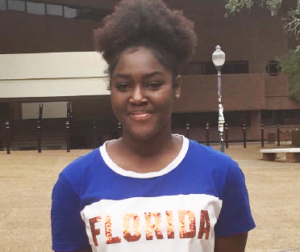 Valedictorian of Village Academy's Class of 2017, Rodeley actively participated in Bound For College's after school tutoring program for four years.
She is a proud recipient of the 2017 Viner Community Scholarship and currently attends the University of Florida.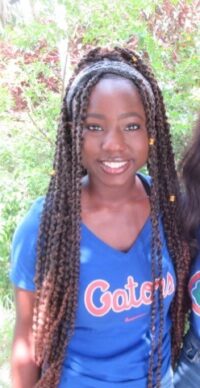 Dashna was the 2020 valedictorian at Village Academy High School. She earned 47 college credit hours through dual enrollment at Palm Beach State College and entered the University of Florida in the Fall of 2020 under a range of scholarships that will fund all of her college costs.
Included in her financial package are scholarships from Take Stock in Children, Florida Bright Futures, Dell, and the Community Foundation of Palm Beach and Martin Counties. Dashna was a three year participant in Bound for College programs and attended the rigorous Morehouse College Math & Science Camp in Atlanta in the summer of 2018.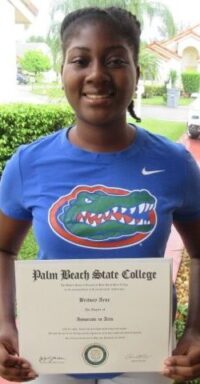 Britney is a 2020 graduate of Village Academy where she was tutored under Bound for College for more than three years. In addition to her time with Bound For College, Britney was also an active member of Village Academy's AVID program, led by AVID coordinator/teacher extraordinaire Shar Solis.
Britney's work ethic has been an inspiration to all of her fellow students and teachers and she has the distinction of being the first Village Academy graduate to also concurrently earn her Associate's Degree (A.A.) at Palm Beach State College.
Britney will attend the University of Florida in Gainesville and has earned various scholarships to help her throughout her college career, including Florida Bright Futures and Take Stock in Children.
Her older sister and older brother also participated in Bound for College programs at Village Academy.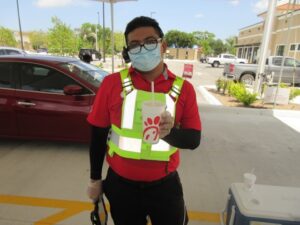 Beloved and admired by the entire Bound for College extended family, Adan has been involved with Bound for College since the 6th grade, following his older sister Lizeth (a recent graduate of Cornell University). During his time with Bound For College, Adan learned to swim during a summer workshop, attended numerous college tours, and participated in various outdoor adventures across the state all while working at local restaurants including Dunkin Donuts and Chick-Fil-A.
Adan graduated from Village Academy in 2020 and has already earned 32 college credit hours towards his Computer Science studies through dual enrollment. He plans to complete his A.A. degree at Palm Beach State College and then transfer to Florida Atlantic University under a Take Stock in Children scholarship.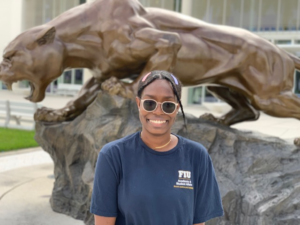 After immigrating from Haiti when she was just six years old, Mitha settled in Delray Beach with her Aunt and Uncle.
Mitha is a 2021 graduate of Atlantic Community High School, where she was tutored under Bound for College for three years. Mitha embodies initiative and leadership among her peers and family members and even organized swimming lessons for Bound For College's summer program. Throughout her high school career, she maintained impeccable attendance, a heavy workload at Dunkin Donuts to save money for college, and continued to serve as a mentor for her two younger cousins.
Mitha currently attends Florida International University and aspires to become a physical therapist.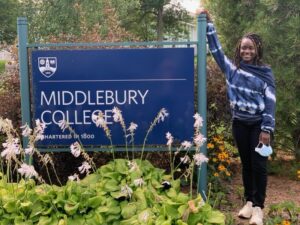 Joneldina left Haiti as a young woman to live with her grandmother in Delray Beach. Upon arriving in the states, she enrolled in her local middle school where she quickly mastered English and excelled in her studies.
Early in her high school career, she read about Middlebury College and decided to set her sights on attending the very selective and competitive school. Joneldina was tutored by Bound For College for two years while remaining active in various other youth clubs around Delray Beach, including WiseTribe which was instrumental in her path to college. Her dream became a reality in Fall 2021 when she enrolled in Middlebury College with a full scholarship.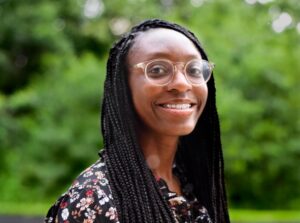 We first met Tiara Jones at the end of her sophomore year in 2016. Bound For College had just expanded from Village Academy into Atlantic Community High School and Tiara's English teacher and Bound For College tutor, Ms. Debra Weier, highly encouraged Tiara to join the program.
As a junior, Tiara committed to participating in BFC programming for the remainder of her high school career and fully embraced all aspects of the BFC experience. Her favorite parts of the program were the college tours, which she said allowed her the opportunity to figure out which school was right for her, and the relationships she was able to cultivate with BFC tutors and staff. Relationships that she still maintains today.
Ultimately, Tiara decided that Florida International University (FIU) was the best fit for her and enrolled in classes in the Fall of 2018. Tiara's dedication to her studies earned her a FIU Presidential Merit Scholarship which requires a 4.0 GPA (weighted), and a 1370 SAT Score or 30 ACT or Top 5% of a Florida High School Graduating Class. That scholarship covered 100% of her freshman-year tuition and fees, as well as provided a book stipend.
Tiara graduated from FIU in the Summer of 2022 with a Bachelor of Science in Elementary Education and just 25 days after graduation, she began teaching first grade at Village Academy. Tiara has a true passion for education and is currently applying to schools to earn her master's degree in clinical mental health. She hopes to one day teach at the collegiate level and become a professor of either History or Math.
When asked what advice she had for students, Tiara said "Stay focused, manage your time well, keep in contact with those that believe in you, and always know what resources are available to you."
Tiara is the perfect example of our mission coming full circle. We are extremely proud of all that she has accomplished and know that the sky is truly the limit for this incredible young woman!